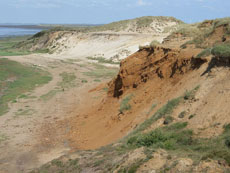 © Holger Weinandt / Wikimedia Commons
At
Morsum
Cliff you will find peace and nature. It's multifaceted surroundings with their heathlands, unique animal and plant habitats, the Wadden Sea and Stone Age barrows are a must-see for every holiday in Sylt.
Morsum Cliff was elevated to the status of conservation area as long ago as the 1920s and is therefore one of the oldest in Schleswig-Holstein. When plans for the construction of a causeway became final at the end of the First World War, the Morsum Cliff was supposed to be used as construction material. However, three members of the Free German Youth Movement managed to prevent this. The area surrounding the Morsum Cliff was made a conservation area, the three activists founded the Conservation Association of the Island of Sylt, which later became today's Sylt Conservation Association.
A multitude of animal species live at Morsum Cliff, above all butterflies and seabirds. Morsum Cliff is a paradise for ornithologists: at low tide, innumerable birds come here to look for food, and there are breeding grounds on the beach and on the cliff itself. The plants species that dominate the cliff are heather and beach grasses. Beach grasses play a special role: it grows in the sand dunes and its roots prevent the dunes from shifting, contributing to the stability of the island.