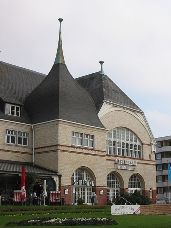 Westerland
's Town Hall is located in a former resort hotel built in 1897. Westland's first resort hotel was built on the same site in 1878 and was completely burnt down in September 1893. The building's construction contributed to the fire as the hotel was completely made of wood.
Only a few years later, it was decided that a new resort hotel would be built. The building project took about a year, until the North Frisian structure was inaugurated in June 1898.
In 1933, the Town Hall was set up in the resort hotel and a municipal hall in the council chambers. Events still take place regularly in the chambers today. In 1949 Westerland's casino made its home here and still entices a multitude of guests every year. You can play Roulette, Black Jack, Poker and Baccarat or have a go on the slot machines. It goes without saying that the casino bar caters for guests' creature comforts with a wide selection of drinks.