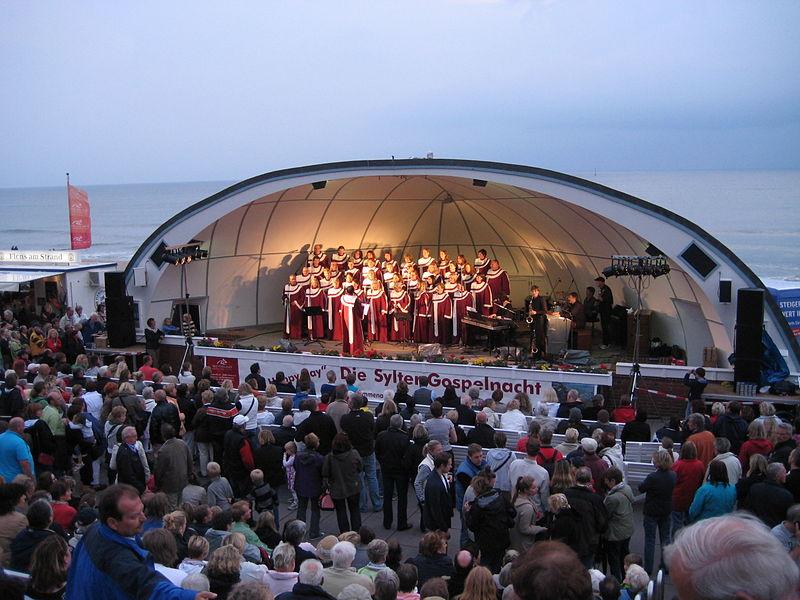 © Wilhelmy / Wikimedia Commons
[CC BY-SA 3.0]
Westerland
, (Frisian: Wäästerlön or Weesterlön) is Germany's most northerly town and is located on the North Sea island of Sylt. Around 9200 people live in Westerland, which constitutes one of the largest self-contained holiday and resort areas in Germany with about 25,100 guest beds (in total Sylt has about 47,000 guest beds).
After
Hörnum
, Westerland is Sylt's youngest settlement. It came into being after the All Saint's Day floods of 1436, where the town of Eidum was completely destroyed. The survivors back then founded a new settlement on the heather flats. They called it "Wester-Land" because it was built on the land to the west of the village. This area is present-day "Old Westerland".
In 1778, Westerland was made up of only 124 houses and was so poor that none of the landowners could live off their land because the marsh land had either been washed away by the sea or buried by the dunes. The township became a seaside resort in 1885 and within a short period of time was considered to be the most advanced resorts around, as men and women were allowed to bathe in the sea together. After the resort was founded, Westerland became the forerunner in tourism on the island. In 1949 Westerland was finally accredited with the status of a seaside spa resort.