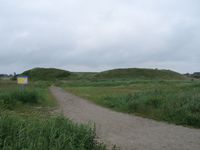 © Wilhelmy / Wikimedia Commons
Tinnumburg -
Tinnum
Castle - is a circular rampart in the
Tinnum
district. Long ago there were three fortresses in Sylt, of those,
Archsum
Castle was destroyed and
Rantum
Castle buried under sand dunes.
Tinnum Castle is different to other castles. Today all that is left is an eight meter high rampart with a diameter of 120 metres, located in the middle of the countryside. During excavations, ceramic pieces dating from the 1st century AD were found here, which suggests that the castle also dates from that time. Therefore, at over 2000 years old, the Tinnum Castle is one of the oldest ramparts in Schleswig-Holstein.
Excavations suggest that the Tinnum Castle was used for various purposes. On the one hand, in the beginning it was probably a Germanic place of worship. On the other, it is likely that it was used to protect the island inhabitants of the 9th and 10th centuries from advancing Vikings, who were on the move to the south. It is also possible that it was used as what is known as a "Zwingburg" – a stronghold – in the late Middle Ages, where the population paid its dues to the Danish authorities
Deliberations at the end of the Second World War on how Tinnum Castle could be used as a tourist destination, for example by setting up an open air museum, came to nothing. Today visits are free of charge and the castle can be viewed at any time.