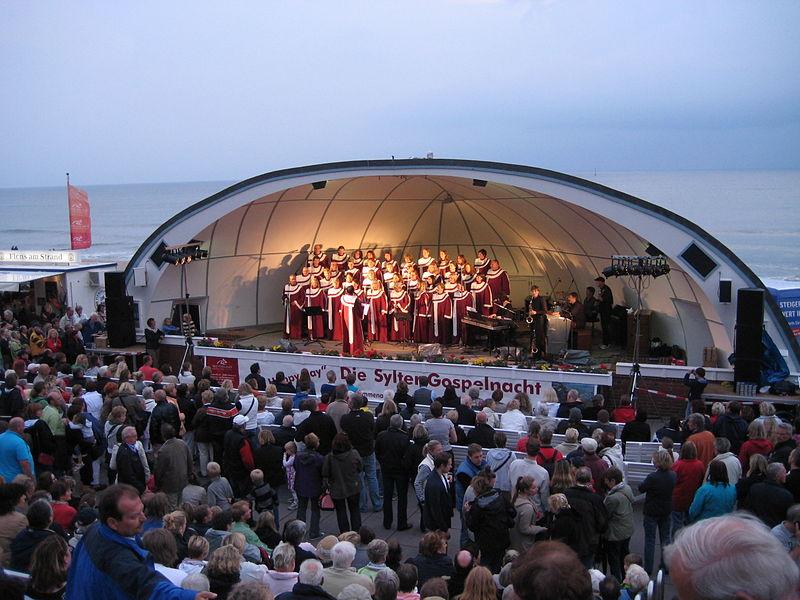 © Wilhelmy / Wikimedia Commons
[CC BY-SA 3.0]
One of Sylt's cultural highlights is the "Musikmuschel" (music shell) in
Westerland
. Concerts of classical music, melodies from musicals and well-known pop tunes take place here all summer long. These are open-air events and are really something special, owing to their vicinity to the beach and the ocean. This diverse programme is especially popular in summer, so you should make sure that you take care of tickets in advance.
The origins of the Musikmuschel go back to the 19th century. A small pavilion with a stage was built here in 1879, in which a resort orchestra regularly put on musical performances. At the beginning of the 20th century, Westerland received its own town charter, as a consequence of which the Musikmuschel was redesigned. However, these improvements didn't last very long: a heavy storm tide in November 1911 flooded Westerland and swept the music pavilion out into the ocean. The Musikmuschel was immediately rebuilt, once again in the shape of a pavilion. In the 1920s it assumed a shell-like shape, much resembling its present-day form. In the following decades the little pavilion because a steadfast cultural institution in Sylt. For years after the Second World War there was no music to be heard, and in 1949 the Musikmuschel took on its current shape.
Nowadays, concerts going by the name of "Musik am Meer" (Music at the Sea) enthral thousands of guests every summer.