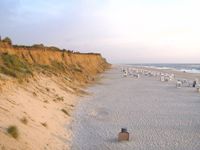 The Red Cliff is one of the most fascinating bluffs on the North Sea Coast. The impressive cliff came into existence 120,000 years ago during the Saalian Stage, as glaciers deposited powerful masses of rock around present-day Sylt. Due to global warming at the end of the Ice Age, the glaciers melted and sea levels rose. A landmass broke off and left behind a brim, today's cliff. Contact between the landmass and oxygen in the air has oxidised ferrous components of the cliff and coloured the bluff red.
The Red Cliff is located between
Wenningstedt
and
Kampen
, in the direction of the open sea in the west of the island. For centuries it served seafarers as a navigation point. Unique to the German, Danish and Dutch coasts, it was Sylt's unmistakable landmark.
Because of its red colouring, for a long time geologists suspected there to be a geological connection between the Red Cliff and the offshore island of Helgoland. This was not disproved until the 19th century.
To this day, the Red Cliff is endangered by storm tides and erosion. Coastal conservation tries to prevent this with shoreface nourishment.